Trip Details
The Fishing Experience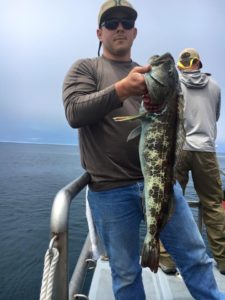 We offer full day and half day fishing trips. All fishing trips are private, meaning that when you book a trip, your party will be the only one on the boat. For the most part, we will be bottom fishing all day at a very slow drift. Bouncing the weight off the bottom so it does not hang up on rocks. Rock fishing is not like normal fishing in a lake, pond or river its action packed all day. Someone is constantly pulling up a fish or working on getting one on the line. The most common types of fish we will be catching today are of the Rockfish family. They are the Vermillion Rockfish, Copper Rockfish, Blue Rockfish, China rockfish, Bocaccio Rockfish, Lingcod, Cabazon, and sometimes a wolf eel. I will be there to assist in landing your fish and also recommending what color of rockfish jig to put on or swim bait. We will travel anywhere from 10 to 20 miles up and down the beautiful central coast. We will be no more than 3 miles from shore.
Our boat is roomy and provides ample room for our anglers tangles are way less likely and so is the loss of your tackle. You get treated like family and we are always ready to assist you in any way possible. You can bring your own beverage cooler which is not allowed on the big party boats. Another key factor is that you have your own personal fishing guide on board. We fish spots I know produce fish. I have done lots of research on how and where the fish will show up. Our boat is fast and Safe to get you fishing as soon as possible.
Piedras Blancas Lighthouse Add-On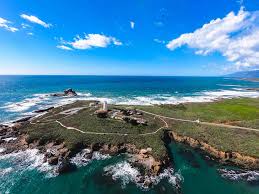 The Piedras Blancas lighthouse area and surrounding areas have been a hot spot for fishing for a hundred years or more. The remoteness in itself has helped boost the areas fish population well above any of the more commonly reachable areas of the central coast. This creates a environment that produces fish quality higher than any other region on the central coast. If you would like to upgrade your trip and experience fishing that is something out of the ordinary simply select the add-on option in the reservation system. Cost is an additional $100 per person.
What To Bring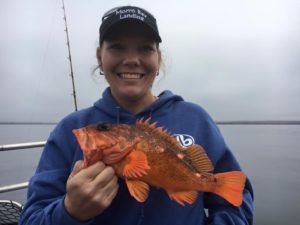 Our standard prices for full day fishing trips do not include rod/reel or tackle. You're expected to bring your own. Rod/reel combos are available for rent. We also offer an all inclusive fishing package, where rod/reel and all tackle are provided. Please call for pricing on our all inclusive package. If you're bringing your own rod/reel, a level wind reel is recommended with at least 300 feet of line.
**Half day fishing trip prices include rod/reel and tackle.
Each angler will need his/her own fishing license prior to leaving the dock. These can be purchased online at the California Dept. of Fish and Wildlife, or you can buy them locally at Morro Bay Landing, which is just a few steps away from our boat. Tackle is also available at Morro Bay Landing.
It will be foggy out most of the day so make sure to dress warmly. I dress in layers so I can shed during the day. Also wear lots of sunscreen, even though it's foggy you can still get sun burnt.
Pricing & Cancellations
Select Full or Half day from the select box to see prices.
All fishing trips are private, meaning that when you book a trip, your party will be the only one on the boat.

As was mentioned earlier, our prices do not include rod/reel or tackle. However, a rod & reel can be rented for $15 per day or, a rod, reel & tackle can be rented for $40 per day. Just indicate the number of rods/reels you would like to rent when you make your online reservation. Tackle can be purchased at Morro Bay Landing, which is right next door to our boat.
**Half day fishing trip prices include rod/reel and tackle.
In the event of a cancellation, Capt. Shawn will work with you to reschedule your trip for another date. If a reschedule is not possible, then it is left to the discretion of Capt. Shawn as to whether a refund will be issued. Deposits for cancellations are nonrefundable.
* As gas prices continue to increase, a fuel surcharge of $120 will be added to the price of the trip for trips that travel farther than Point Estero to the north or Point Buchon to the south.
Meet at the Address Below
Arrive by 6:45 AM for full day and morning half day fishing trips. For afternoon half day trips arrive by 11:45 AM.